See 300+ Reviews on Google, Zillow and Facebook.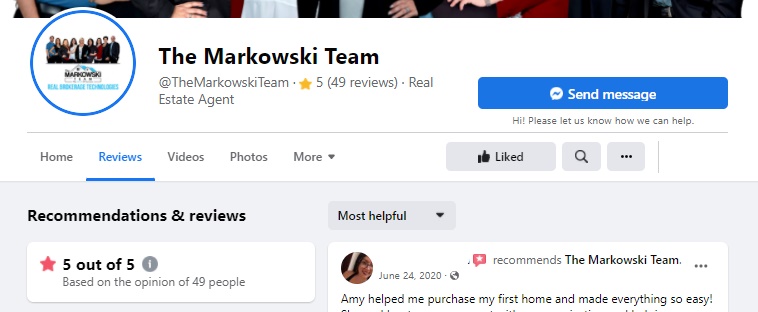 Amy and the team were great to work with. They were always available for all our questions and they made the process easy. They communicated through emails and texts always keeping us in the loop. And of course our house sold in one day!
by swanson peggy2007
Our experience with Amy and her team was AMAZING! When we decided we were moving to Cincy, I knew there was only one realtor I would call! Amy works hard for her clients and is very diligent. Her attention to detail allowed us to feel at ease throughout the home buying process. I would recommend Amy to anyone looking to sell or buy!
by Melissa Conner
Maria made the house buying process extremely easy and as stress free as possible. As a first time home-buyer I had a lot of questions and she was always willing to help out, and if she couldn't answer my question she would point me in the right direction. Maria and her team did a fantastic job in guiding me through this process.
by Amanda Rice
Team Markowski is the the only way to go they listen to you and what you want and then guide you and your family through the buying and selling process we would have never got through this with out them this team will become your extended family even after the process of buying or selling because I know if I need anything I still can call and get the same treatment as if it was my first call thank you so much.
by csmallwood66
Our property was a COMPLETE remodel. Amy first saw this property at bare bones. Her initial estimates were, somehow, spot on. Her guidance as to what homebuyers want were also spot on. Her entire team was obviously eager and happy to be working for us. They were super informative and eased any concerns before we knew we had them. They staged the property beautifully and it sold in 6 DAYS! I can't speak highly enough about Team Markowski and couldn't possibly recommend anyone else to sell, or buy, a home. Other realty teams should take note.
by k9tank1800